Teenage soldier from Taunton gets bravery medal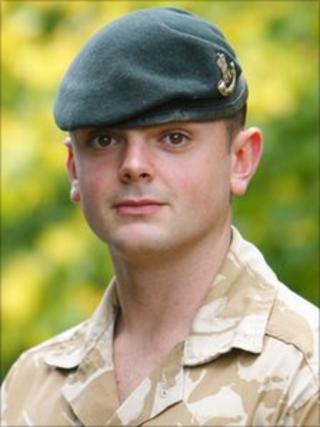 A teenage soldier from Taunton who led a daring night raid in southern Afghanistan to capture a Taliban leader is to receive a top honour.
Rifleman Reece Terry, 19, of the 4th Battalion The Rifles, will receive the Queen's Gallantry Medal for Bravery.
He was only seven days into his first six-month tour when he was selected to be the lead man checking for Improvised Explosive Devices (IEDs).
The operation Rifleman Terry led was in Helmand Province.
The Rifleman, who worked at a greengrocer before joining the Army in 2007, was operating from a base to the north of Sangin District - a densely-vegetated area with with a very high threat of IEDs.
The area was so dangerous that in the previous four months, patrols had not ventured further than 800m from the base and no patrols had been carried out at night.
'Skill and intuition'
During the mission in October last year, Rifleman Terry had to lead a 100-strength force on a 2km trek through an area with a high concentration of IEDs, armed only with a Vallon metal detector and night vision goggles.
Using his skill and intuition on the tortuous three-hour journey, he led the force safely and undetected to the target location.
He then waited a further three hours with his platoon while the special forces soldiers captured the Taliban leader and six others, as well as destroying a large number of weapons and IED parts.
Rifleman Terry then led the force back over the same route which was now under greater threat because the insurgents were aware of the raiding party.
When he arrived back at base, he could barely speak because of exhaustion.
His citation reads: "What Terry achieved on that night was unimaginable prior to the event and set the tone for the remainder of the tour by breaking down myths about movement at night through IED belts, shifting the boundaries of the possible in the minds of fellow Riflemen.
"Terry demonstrated a level of skill, courage, stamina and mental fortitude in the face of the threat of enemy IEDs that was far beyond the call of duty and expectations of his rank or experience."