Vandalism and theft leaves village without road sign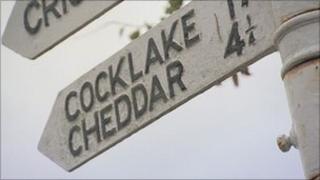 A Somerset village called Cocklake has been left without a road sign following repeated vandalism and theft.
The sign might not be reinstated as Wedmore Parish Council says the £300 cost of replacing it is not a good use of parishioners' money.
Council chairman Mal Johnson said vandals had been painting over the 'L' in Cocklake in white for years.
But recently it was completely stolen Mr Johnson said.
Another sign for nearby West Ham has also been repeatedly stolen.
Mr Johnson said the signs were stolen or defaced "pretty much every time they are put up".
"There's a slightly light hearted side to the Cocklake sign, but the real issue is cost," he said.
'Under pressure'
He estimated about 30 signs were missing across the parish.
He added he had not seen any real evidence of people getting lost due to a lack of signage, but said anyone with concerns could get in touch.
Mr Johnson said: "At a time when we're being put under pressure from Sedgemoor District Council to perhaps pick up the cost of some of the services they provide, it doesn't seem like a very sensible use of parishioners' money."
He said the parish was looking at the options of erecting different types of signs "that maybe won't be so attractive or useful in a domestic environment".
"We're still looking at it, but it's not something I think we should be spending a lot of money on at the moment," he added.