Tory MP: 'Election should be fought as a coalition'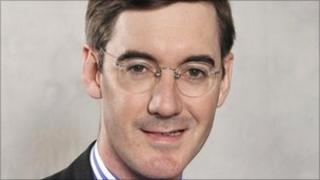 A Conservative MP has said he believes his party will fight the next election as a coalition with the Lib Dems.
Jacob Rees-Mogg said it would make "no sense to oppose people who have been members of that government and have made a big contribution to it".
The North East Somerset MP added although there were significant differences between the parties, there were agreements on basic philosophy.
The Tories said party policy was for the election to be fought separately.
A Conservative party spokeswoman said the election planned for 2015 would see the three main parties fight for their seats individually.
'Rare member'
The Lib Dem Deputy Leader Simon Hughes has previously told the BBC that there would be no electoral pact, despite the two parties working together, and that the coalition was a "business arrangement, not a marriage".
Mr Rees-Mogg said he was a "rare member of his party to think this" but it was in "everyone's interest to make the coalition work".
He added: "Come 2015, I think we will fight the election as a coalition but we will remain two separate parties, hence two separate party conferences."
Mr Rees-Mogg was elected to represent North East Somerset for the first time this year, taking his seat from Labour.