Order for remaining Gypsies to leave North Curry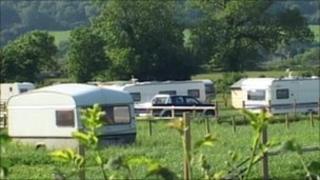 The last two Romany Gypsy families living on land in part of Somerset have been ordered to leave.
They have 28 days to leave the site on Oxen Lane, North Curry, after Taunton Deane Borough Council won an injunction from the High Court for their removal.
Sixteen Gypsy families first moved on to the site in 2004 where they built homes and a road to the site without the necessary permissions.
The council said the Gypsies' removal involved a "substantial" legal cost.
Conservative council leader John Williams said the cost was in the region of £100,000.
He said: "What do you do? Do you allow people to break the law or do you pursue it?"
Mr Williams said he believed the council had a duty to house people who were homeless but added there had to be a "level playing field" between gypsies and the settled community.
The families have been offered a place on a travellers' site in Otterford, Taunton.
The council said it hoped the site would be returned to its original condition.