Boys held after former hotel fire in Weston-super-Mare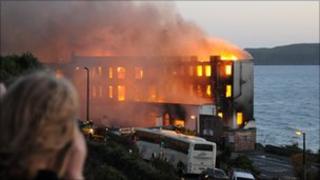 Two teenage boys have been arrested after a fire at a derelict hotel in Weston-super-Mare.
The pair, aged 13 and 14, were held on suspicion of arson but have been bailed, police in the town said.
The former Royal Pier Hotel was declared structurally unsafe and is now being demolished.
Historian John Crockford-Horley said the building, which opened in 1854, was "the premier hotel in Weston for many years" before falling into decline.
More than 30 firefighters tacked the blaze on Birnbeck Road on 29 September.