Somerset teenager elected squire by Chalice Morris Men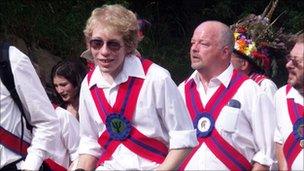 An 18-year-old man has been elected squire of the Chalice Morris Men, the youngest dancer to hold the position.
Adam Busby, who has been morris dancing since he was 10, will now be in charge of the Somerset group which includes his father, cousin and uncle.
"The squires are the leader of the team so if any problems arise or anyone needs a voice, my word is the law," the student said.
Mr Busby's aim is to recruit younger dancers and musicians to his team.
He was given the opportunity to put himself forward for the role at his group in Brent Knoll after his father, Roy, stepped aside to allow elections to take place.
Adam Busby, who is studying forensic sciences, was surprised his nomination was backed by his fellow members.
"I spent a lot of time gaining a lot of respect and got a majority vote even from older members."
The role will last for two years, although he could choose to stand for election again in 2012.
Bob Cross, a former squire, is confident Mr Busby will be successful in carrying out his new responsibilities.
"Adam continues to grow not only in height but in the precision dancing he is capable of.
"His obvious leadership skills shine out as well."
Related Internet Links
The BBC is not responsible for the content of external sites.