Tin helmet protest Mendip councillor reinstated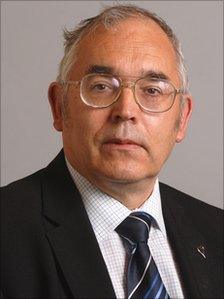 A Somerset councillor who was suspended after wearing a tin helmet and waving a Canadian flag as part of a land dispute protest has been reinstated.
Andrew Earle was suspended for two months for breaching council members' code of conduct over his behaviour towards a woman following the protest.
An investigation by Mendip District Council said he failed to treat her with respect.
Mr Earle has now been reinstated as a councillor, pending an appeal.
He became involved in the dispute after two residents approached him for help.
A UK and Canadian national, Mr Earle said at the time that the dispute over the building of a wall was a "land invasion".
He was arrested for suspected breach of the peace, but was released without charge.
The original council investigation said he failed to treat the woman with respect following the land ownership protest he carried out last year, and during a visit to her workplace.
A council spokesman said that a tribunal had granted Mr Earle the right to appeal against the decision passed by the council's standards committee that he had breached the code of conduct.
His suspension had been due to come to an end on 31 October.
Mr Earle has now been fully reinstated as a councillor for the Frome College ward.
The council spokesman said a decision on the outcome of the appeal was expected by the beginning of December.
Related Internet Links
The BBC is not responsible for the content of external sites.