Spending Review: 700 to leave Somerset council by April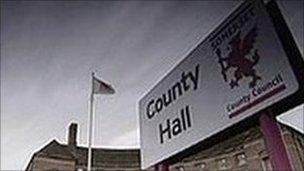 More than 700 Somerset County Council staff could lose their jobs by April, it has been announced.
A further 800 posts could be cut over the next three years and staff that remain will face potential pay cuts and less generous terms and conditions.
Council services including social care, education, bus subsidies and road repair could be cut, the council said.
The Conservative-controlled authority said it faced a 25% cut in funding over the next four years.
Council Leader Ken Maddock said he found the cuts to staffing "heartbreaking".
The council is to hold public consultations over the possibility of either closing library services or for local communities and agencies to either help operate or take over libraries entirely.
People will also be asked for their views on changing the level of help offered to people with disabilities.
It has also emerged that three councillors will no longer hold posts in the council's cabinet.
They are; Anthony Trollope-Bellew, who was responsible for environment, Stephen Martin-Scott, responsible for strategy and communications, and William Wallace, responsible for community safety.
Their roles and responsibilities will be taken over by the remaining five cabinet members.
The authority said reducing the size of its cabinet would save £50,000 per year.
Mr Maddock said: "The county council needs to get smaller and is cutting staff. It is only right that the cabinet should do the same."
He said Mr Trollope-Bellew, who he described as "a man of greatest experience and integrity" had left the cabinet because he "could not stomach" the 50% cut to the roads budget.
Repairing roads had been one of his party's election promises, but Mr Maddock said: "What else can we do?
"Let me reassure people we will continue to fill in potholes and road safety will be our first priority, but it does mean we are not able to resurface roads as we would like to do on a regular maintenance basis."
He said household waste recycling centres were expected to be cut from 18 to 10, and three-quarters of youth centres were likely to close.
Mr Maddock said there were about a dozen different options on the table for changes to staff terms and conditions: "None of them is a decision yet".
"It makes me angry I'm having to do this," he said. "The reason I'm coming out and doing it now is because I think people are entitled to know. It's their money and their future."
Related Internet Links
The BBC is not responsible for the content of external sites.