David Laws 'would have made same cuts' as chancellor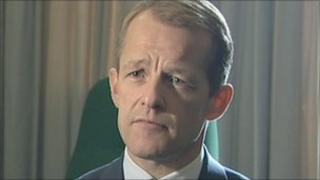 Former treasury minister David Laws has said he would "not have done a lot differently" from George Osborne's spending cuts review.
The Lib Dem MP for Yeovil worked closely with the chancellor in the early days of the coalition.
He resigned from the government just weeks into his new job, over expenses.
Mr Laws told the BBC Politics Show West programme: "The chancellor has very limited room for manoeuvre because we've got this enormous budget deficit and had to take action to bring it down.
"At the same time, what I would have wanted to see is the protection of some of the priority areas in public spending and that's what we saw delivered.
"The NHS budget will be protected in real terms, the budget for schools will go on growing and there will be action in areas such as infrastructure - for example a big investment in my constituency (£32m to support AgustaWestland in development of its civil helicopter programme) - which will help the local economy."
David Laws' full interview with the BBC Politics Show West can be seen on Sunday 24 October at 1215 BST on BBC One.