Firm says Severn barrage plan could be resurrected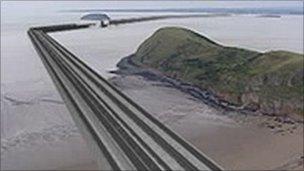 A private company has said it could resurrect the abandoned Severn barrage plan.
The government pulled out of the £30bn Severn estuary barrage tidal energy project on Monday, saying it was not economically viable.
Now Corlan Hafren Ltd has expresssed interest in taking over the scheme to harness tidal power.
The company said it believed it could build the barrage from Somerset to south Wales and make money.
Ben Hamer, director of Halcrow Group Ltd, a partner in the project, said: "The public sector hasn't the money.
"We've been talking with potential investors to identify their appetite. We believe the finance will come."
Supporters had claimed the 10-mile (16km) dam would produce up to 5% of the UK's energy.
But Energy Secretary Chris Huhne said a study had found there was "no strategic case" for the scheme.
Mr Hamer said he welcomed the government's announcement not to proceed with the project using public money.
"We don't see that as a barrier to progressing as long as we are getting the right messages coming out of government to support us," he said.
Related Internet Links
The BBC is not responsible for the content of external sites.