Obesity surgery rules vary across NHS in Somerset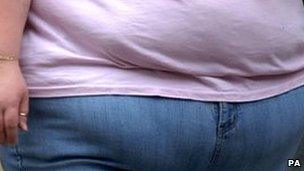 Obesity patients need to weigh more in order to qualify for NHS-funded weight-loss surgery in North Somerset than they do elsewhere.
People with no other health problems need to have a body mass index of 50, compared to 40 in Somerset and Bath and North East Somerset (Banes).
North Somerset Primary Care Trust (PCT) said the decision to insist on a BMI of at least 50 for gastric bypass or gastric banding operations was made in conjunction with Bristol and South Gloucestershire NHS Trusts.
But the National Obesity Forum said the trust was failing to follow government guidelines which "should be honoured".
In order to qualify for weight-loss surgery paid for by the NHS, the National Institute for Clinical Excellence (NICE) recommends that patients have a BMI of 40.
Patients who have a BMI of 35 with other health complications like diabetes, heart disease or high blood pressure should also qualify. BMI is a measure of weight according to height.
Simon Monkhouse, a trainee surgeon, said: "For patients with PCTs where they're quite tight on the purse-strings, the patients have to be much larger to qualify for surgery, so there's a lot of pressure on patients.
"In some cases they're being turned away and being told to eat more and to come back when they are bigger."
Tam Fry, from the National Obesity Forum said: "It is actually illegal because the recommendations which have been accepted by the government from NICE lay down strict guidelines on the levels of obesity which should qualify for bariatric surgery.
"That is the level that should be honoured by all primary care trusts, and PCTs which do not obey those guidelines are greatly in error."
Weight-loss surgery on the NHS can cost between £8,000 and £10,000.
Research from Office of Health Economics found evidence that one year after surgery the costs to the NHS were off-set because as people lost weight they stopped claiming disability benefits.
And the surgery - particularly a bypass - can cure diabetes in many cases so patients stop needing as many drugs.
Demand for weight-loss surgery has increased in the West over the past five years.
The number of gastric bypass operations carried out by Musgrove Park Hospital has risen from 8 in 2004-5 to 190 in 2009-10.
And the number of gastric band operations has increased from 10 in 2004-5 to 27 in 2009-10.
Related Internet Links
The BBC is not responsible for the content of external sites.