Shepton Mallet inmates' frustration at prison education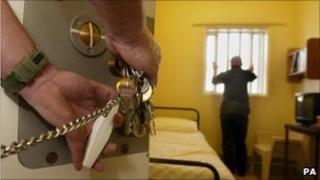 Shepton Mallet prison in Somerset is one of the oldest prisons in the country, with inmates serving life sentences for murder and sex offences.
For them, education is regarded as an essential part of the rehabilitation process - not just for those hoping to eventually be released on parole but also for those likely to spend the rest of their lives there.
Shepton Mallet is a Category C prison and is one of the smallest jails in the UK, holding 189 men.
On my visit there, I spoke to 10 men and inmates' attitudes varied from determination to apathy and frustration about the way education was provided.
The first place I visited was a workshop where prisoners were taking part in vocational skills training for woodwork.
One inmate was having his first lesson that day.
"I'm trying to obtain as many qualifications as I can," he said. "Because obviously having a criminal record it's not going to be easy to go out and get a job, so I'm trying to do the best I can at the moment."
'Very basic'
However in the same class, another said there was simply not enough to keep him occupied.
He wanted to be transferred to a Category D prison but said this was not likely to happen for at least three years.
A Category D prison is also termed as a open prison but inmates have more freedom and it is regarded as the final step before being released on parole.
He said: "I've been on the course for a month, but have nearly finished it though.
"That's the problem, they are only teaching you to a very basic level, it whets your appetite but you can't take it any further."
The woodwork classes are part of the vocational skills training at the prison. Recently painting and decorating lessons have also been introduced.
Another prisoner told me he had been in prison for several decades and had already achieved several GCSE qualifications, as well as two degrees in sociology and psychology.
He said he felt penalised for not taking part in the vocational educational classes available, a refusal which had resulted in his prison wages dropping from £10 a week to £3.50.
He said: "There's nothing to offer other than basic education on the lower scale. Apart from that there is nothing new for the 'middle of the road' type person.
"I feel like I am being blackmailed to do some courses which I don't have any interest in so therefore it's mindless to me."
'Lot of concern'
Nick Evans, the prison's governor said it was difficult to secure higher education for inmates.
Mr Evans said although funding had increased in recent years it was hard to secure money for advanced courses, such as "level 4" education - the equivalent of degree-level courses.
Speaking of the Business, Innovation and Skills Council (BIS), he said: "They are not so willing to put money into Level 4 education which we think is particularly necessary for prisoners in a jail such as Shepton Mallet."
A spokesman for BIS said it spent £1.1m on higher education for prisoners, while the Skills Funding Agency spent £138.8m on offender learning in 2009-10.
"A review of offender learning, including higher education for prisoners, will report this year," he added.
Although no further details were given on whether this meant a reduction in funding, the Prisoners' Education Trust (PET) believed the situation could get worse.
The PET is a charity which receives government funding for 800 inmates every year for Open University courses.
Director Pat Jones said: "What is causing a lot of concern is what will happen to that funding when the full impact of the Spending Review is known, particularly when the government has decided what it's doing about access for higher education for people generally."