Hinkley Point plans 'jump the gun' say campaigners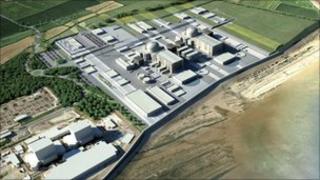 Campaigners say a power firm is "jumping the gun" by applying for planning permission for preparatory work on the new Hinkley Point reactor before the main plans are approved.
EDF Energy wants to build a temporary jetty and remove woodland and hedgerows around the site in west Somerset.
Activists say the work, which will remove enough earth to fill Wembley Stadium twice, will spoil a valley.
But EDF says it will restore the area if plans for the plant are refused.
David Eccles, of EDF, said: "We have to do as much as we can, we need to put in roads, we need to do the earthworks, in order to save time."
'Wide-ranging impacts'
But Crispin Aubrey of the Stop Hinkley group told BBC Points West: "It means starting to dig the foundations for this power station for which they as yet do not have planning permission, which, in our view, is jumping the gun."
The group says the French firm's plans would affect 400 acres of land and lead to the closure of seven miles (11km) of footpaths, including a stretch of the South-West Coastal Path.
But EDF said the work would involve levelling out the site and would not include building foundations as that is part of the application to build the power station, which would go to the government for approval.
If this is not granted, the energy company said it would return the site "as close as possible" to its original state.
Hinkley has been identified by the government as one of eight potential sites for a new nuclear power station.
Although, the plans for the new nuclear reactor would be taken by national government, the preparatory work will need approval from West Somerset District Council.
Andrew Goodchild, the council's planning manager, said: "Clearly this is a complex planning application with many wide-ranging impacts that need to be carefully considered.
"We have been expecting the application for a number of months and will now put our carefully laid plans into action to start the process of consultation and consideration of this significant proposal."