Ice and temperatures below -10C forecast for Somerset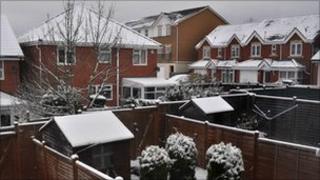 Temperatures are predicted to fall below -10C in Somerset but no more snow is forecast after the overnight snowfall in parts of the county.
Twelve schools were closed and bus services cancelled after 10cm (4ins) fell in the Yeovil area and on Exmoor.
BBC weather forecaster Richard Angwin said: "There is little in the way of snow expected in the next 24 hours.
"It is likely to become treacherously icy as temperatures fall below -10."
Bus operator Stagecoach has been monitoring the situation and said passengers should expect delays and cancellations to some services.
Home birth
"We will take decisions based on the road conditions to ensure the safety of our passengers, staff and other road users," a company spokesman said.
All South West Coach services have been cancelled; First Bus services in Yeovil are not operating, and Berry's Coaches are running a limited "superfast" service to London.
The disruption meant that one midwife had to abandon her journey to help at a home birth in the village of Clutton.
Sophia Plazas Maddison was born safely at 0530 GMT.
Father, Neil Maddison said: "There was a moment when I thought - is the midwife actually going to make it?
"Paloma was completely wrapped up in having a baby of course but it was OK and now Elouisa has a little sister."
A full list of school closures and travel information can be found on the BBC Somerset website.