Temperatures fall to -11C in parts of Somerset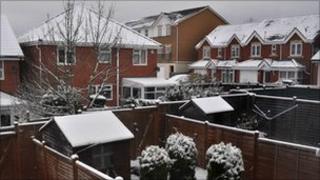 Temperatures fell to -11C (12F) in parts of Somerset overnight, but no more snow fell.
The Met Office said the Yeovilton area of the county was among the coldest places in the UK.
Twelve schools were closed and bus services cancelled after 10cm (4in) of snowfall in the Yeovil area and on Exmoor on Thursday.
Conditions were likely to become treacherously icy as sub-zero temperatures continued, experts warned.
BBC weather forecaster Ian Fergusson said: "We've seen some very cold temperatures into this morning, -11C in some spots.
"Albeit high ground could see some snow for a while tonight, most areas will see outbreaks of rain as temperatures climb towards seasonal average into Saturday.
"Icy roads will be a hazard in the morning, however."
Somerset's homeless services said they have been "stretched" but were coping with an increase in demand during this week's wintry conditions.
A Winter Watch scheme means anyone sleeping rough will be given a place to stay if the temperature falls below zero three nights running.
A full list of school closures and travel information can be found on the BBC Somerset website.