Unison claims Somerset County Council cuts 'unlawful'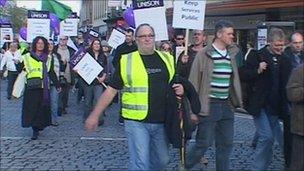 Unison said the cuts were voted through before the council had carried out an equality assessment on how they would affect the most vulnerable.
Somerset County Council said the cuts were necessary to plug a massive gap in its finances and all legal procedures have been correctly followed.
If Unison does go to the High Court it will be seen as a national test case.
"The law is very clear on this," a Unison spokeswoman said.
"Before a decision is made you must do an equality impact assessment on the effect on women and men, on people with disabilities and people of different ethnic backgrounds."
Last month Somerset County Council's cabinet unanimously voted to recommend £43m of cuts.
Plans to save money include halting resurfacing roads and cuts to youth clubs, bus subsidies and arts groups.
The move sparked protests by union members who opposed the cuts.
The Conservative-controlled authority said it faced a 25% funding cut over four years.
Related Internet Links
The BBC is not responsible for the content of external sites.