Weston-super-Mare hosts Miss Great Britain contest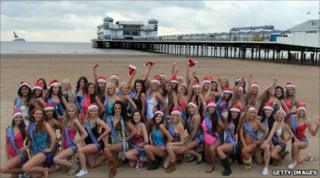 Fifty-seven women from around the UK are in Weston-super-Mare, hoping to become Miss Great Britain.
The contest dates back to 1945, but this year is the first to allow single mothers and divorcees after organisers changed the rules.
Sophie Gradon, 25, from Newcastle, is the current holder of the title and was crowned in London last May.
The final is taking place at the seaside town's newly refurbished Grand Pier.
'Career opportunities'
Contestants model swimwear and evening dress in the competition.
Organiser Liz Fuller said in the past beauty pageants were "let's look at that girl in the swimsuit".
"Nowadays it's more about personality, character and talent," she said.
"We want Miss Great Britain or any pageant to be the platform for the girls to achieve whatever their career opportunities or aspirations are," she added.