Fraud officers arrest ex-vice chair of Somerton council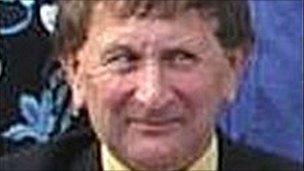 A former vice chairman of Somerton Town Council is among three people arrested by fraud investigators, the BBC has learned.
Anthony Canvin, 62, resigned from the town council in October last year, blaming abuse from a local blogger.
He and two others were arrested by the Avon and Somerset economic crime unit on 2 December. All three have been released on police bail.
The BBC has been so far unable to contact Mr Canvin.
Although Mr Canvin is no longer on Somerton Town Council, he remains in his role as an Independent councillor at South Somerset District Council.
A council spokeswoman said he continued to serve as normal.
A police spokesman said: "On 2 December police officers from the Avon and Somerset economic crime team arrested three people in connection with an ongoing investigation.
"All three were taken into custody, interviewed and released on police bail pending further inquiries.
"The investigation remains ongoing and it would be inappropriate to comment on it any further at this stage."
The Audit Commission confirmed it had been approached by a member of the public over proceedings at Somerton Town Council earlier this year.
The commission instructed accountancy firm Moore Stephens to investigate.
When the BBC telephoned Mr Canvin at his home address a woman answered, saying: "I'm sorry, he's not allowed to speak to anyone. No comment. Thank you."
New elections for Somerton Town Council had to be held in January after Mr Canvin was among 12 councillors who resigned.
The councillors said a critical online blog by local resident Nial Connolly was the reason.
On his Muck&Brass blog Mr Connolly called former members "jackasses".
However, Mr Connolly rejected the idea that the councillors had resigned as a result of his blog.
Somerton Town Council said it was aware of an ongoing investigation, but could not comment further.
Related Internet Links
The BBC is not responsible for the content of external sites.