Reward set up to find Glastonbury's Holy Thorn vandal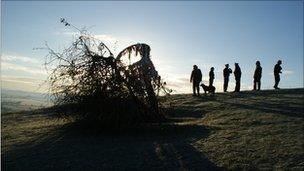 A fund has been set up to try and find out who vandalised a historic tree of religious significance in Glastonbury.
Donations to the fund will be offered as a reward in the search for who cut down the Holy Thorn last week. A police investigation has also been launched.
If no-one is identified, the money will go towards the replanting and future protection of the tree.
The Holy Thorn grew from a cutting of a tree thought to have been planted by Joseph of Arimathea 2,000 years ago.
The fund has been set up by Glastonbury Town Council, who says it has received telephone calls from people all over the world offering help.
"People are very, very angry about this. It doesn't matter what beliefs you have, it was loved by all," said Glastonbury's mayor, councillor John Coles.
"When we went up there (to see the vandalised tree), there was a large crowd of people weeping and crying and I was in complete shock myself.
"It's the saddest thing I've seen in Glastonbury in all the 60 years I've lived here."
He said he believed more than one person was involved in sawing the historic tree down.
There are several Holy Thorn trees around the town, and last week a ceremony was held at nearby St John's Church where a sprig from the Holy Thorn was cut for the Queen.
The vandalised tree was planted in 1951 to celebrate the Festival of Britain.
Related Internet Links
The BBC is not responsible for the content of external sites.