Snow-related injuries double at Musgrove Park Hospital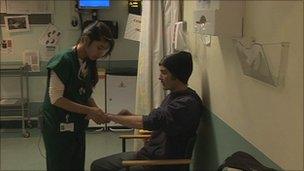 The number of people being admitted to casualty with broken bones at a Somerset hospital has doubled and is being blamed on the heavy snow and ice.
Dr Marla Pradeep from Musgrove Park Hospital in Taunton said: "We've seen about 45-50 weather-related fractures in two days. It's normally about 20."
Major roads across Somerset are coping well despite ice covering the county.
The Met Office is advising drivers of the continued risk of widespread ice on untreated roads.
Dr Pradeep continued: "We've seen broken ankles and a fair few broken wrists - all related to the ice and snow. The cold weather has also made chest infections worse.
"Staff have been superb covering shifts and some have stayed overnight in the hospital.
"One consultant even stepped in and covered a junior doctor's shift."
The hospital is asking patients with conditions which are not urgent to contact NHS Direct or to phone the hospital for advice.
All services at Musgrove Park are currently running as normal.
First Bus has cancelled services around Bridgwater, Wells, Yeovil and Frome on Sunday.
Berry Coaches, which had cancelled bus services on Friday and Saturday, says it is operating a normal Sunday service.
Kelvin Packer, from Bath and North East Somerset Council, said highway teams had had a "trouble-free night" and did not receive any call-outs.
He said: "It's going to be a difficult day, temperatures are going to struggle to get above freezing on the road surfaces so certainly many of the hills and roads that we have will be very icy, especially those that are not on the main road network that we usually salt."
Paul Smart, from North Somerset Council, said all the main roads were clear and passable but minor roads had not been gritted.
He urged motorists to stay at home again on Sunday so that gritting teams could work to prepare roads for Monday rush-hour traffic.
Related Internet Links
The BBC is not responsible for the content of external sites.