Somerset needs extra grit supply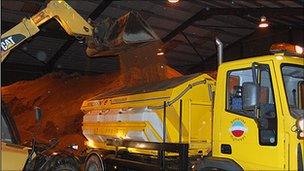 The highways team in Somerset has asked the government for more grit after using 2,000 tonnes over the weekend.
Although there was no snow overnight, motorists are being warned of icy rural roads. Major routes have been gritted and remain passable with care.
Geoff Dight, highways manager, said: "We've got 1,200 tonnes at the moment which isn't good."
The team is expecting a top-up delivery and has bid for more supplies of grit from the national stockpile.
Bath and North East Somerset Council said it was getting more deliveries of grit every day this week.
The snow is continuing to cause problems for coach services in the county.
Park-and-ride services have been suspended for another day in Taunton and Berry Coaches has cancelled its early coach services to London.
Services operated by First in Bath, Wells and Weston are running, although some are on main roads only.
In Yeovil and Bridgwater most routes are operating, but some with a reduced service while in Taunton the majority of services were running with a few cancellations.
There are also cancellations and delays at Bristol and Exeter airports.
A Somerset hospital has said all its outpatient clinics are running as normal. On Monday they were cancelled because of the snow.
If patients cannot make their appointments they will be re-booked and they have been told not to call the switchboard as it became overloaded with calls.
Snow also led to the cancellation of maternity community clinics at Yeovil District Hospital on Monday.
Instead an antenatal and postnatal drop-in clinic was provided at the hospital and midwives were available by phone for any queries patients had.
Related Internet Links
The BBC is not responsible for the content of external sites.