Council rethink on mobile library closures in Somerset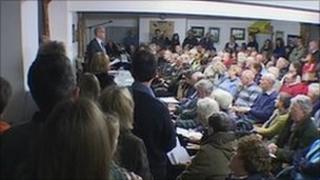 Plans to reduce mobile libraries in Somerset may be reconsidered after more than 150 people from one town turned up at a protest meeting.
Residents in Wiveliscombe invited the council to discuss the issue after not being included in a "closure roadshow".
The county council's head of library services, Dr Tom Maybury, said plans to close four of the six mobile libraries "would be reconsidered".
Twenty of the county's 34 libraries may shut after the budget was cut by £1.4m.
Kay Hoskins, from Wiveliscombe, said the aim of the meeting was to ask Somerset County Council to reconsider its proposal to close the town's library.
'Painful decisions'
She said: "We're hoping to set up a Friends of Wiveliscombe library group. We've already signed up to the national read-in on 5 February.
"We are doing this in protest at the cuts - the nationwide cuts too - not just Somerset.
"Wiveliscombe has more book clubs than any other library in Somerset - we have 13 book clubs."
Simon Turnbull, who has lived in Wiveliscombe for 20 years, said: "I'm very concerned about the loss of the library - it's essential. I frequently use it for reference purposes."
Councillor David Huxtable, of Conservative-controlled Somerset County Council, said: "We've had to make some very painful decisions based on what we have to do, what is life-threatening or what we'd like to do."
Under the proposals, which will be considered by the council's cabinet in February, the county council would continue to support 14 of the most used libraries. The remainder would have to be taken over by the community to stay open.