Job cuts risk at Exmoor National Park Authority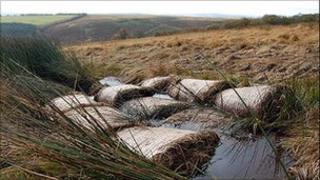 Exmoor National Park Authority will lose 21.5% of its government funding over the next four years.
The authority said job cuts were likely but would not impact on its existing partnership agreements.
Dr Nigel Stone, the park's director, said: "The reduction in funding is in line with what we were expecting and had planned for."
The Department for Environment, Food and Rural Affairs is to go from £3.8m in 2011/12 to £3.1m in 2014/15.
The authority said it had already made some savings by not refilling posts for staff who who chose voluntary redundancy or retired and as a result was able to balance its budget for next year.
"This will give us time to review all our services and activities, consult widely with other providers and partners and refocus the work of the authority so we can establish new ways of doing things at less cost," said Mr Stone.
The park has worked in partnership with South West Water to conserve peat bogs and has Heritage Lottery Funding for its Exmoor Moorland Landscape Partnership.
Park centre
The Exmoor Society is a local charity which works to protect and enhance the landscape.
Rachel Thomas, chairwoman, said: "The real problems will come in year three when they will have to look really seriously at the services they are providing and their staffing numbers.
"They will have to look at ways of doing things a little bit differently, using the voluntary sector and others to help in the provision of some of the services they have been doing themselves."
Despite the budget cuts, the new national park centre planned in Lynmouth will be completed.