Tesco Extra store for former Sedgemoor Splash pool site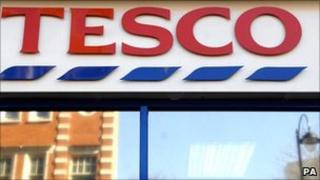 A Tesco Extra supermarket is likely to be built on the site of a former swimming pool in Bridgwater, Somerset.
The site in Northgate was home to Sedgemoor Splash which was the subject of much protest when it was closed in August 2009.
Protesters opposing Tesco demonstrated outside Sedgemoor District Council's offices prior to a meeting on Friday.
Tesco said its proposals would bring "new life" to to the Northgate area of Bridgwater.
A spokeswoman for the supermarket giant said: "[The store] will support the town centre by strengthening the town's retail offer and creating hundreds of new jobs for local people.
'Planning application'
"We will now work with Sedgemoor District Council and Somerset County Council to enable contracts to be agreed late this spring.
"We will consult with the local community about our proposals and then submitting a planning application later this year."
But campaign group Bridgwater Forward said the arrival of Tesco would be the "death knell" for the town centre.
Spokeswoman Sally Jones said: "Tesco will destroy our town centre shops and facilities.
"Bridgwater needs a variety of retail outlets and more leisure facilities to attract incomers - not domination by a supermarket."
The store would be 60,000 sq ft with seven smaller shops and office space.
There would also be 600 car park spaces and the nearby Brewery Fields green space would have its facilities upgraded.
At Friday's council meeting Sedgemoor District Council decided to sell its 60% stake of the land and enter into a development agreement with Tesco which would give it first options on building on the site.