Somerset chef wins £1.5m lottery jackpot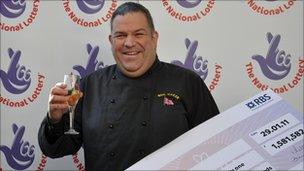 A pub chef from Somerset has cooked up a tasty treat by winning a £1.5m lottery jackpot.
Neil Baker, from Bridgwater, came up trumps with a lucky dip ticket in the 29 January draw, which he had bought alongside his four regular lines.
The 36-year-old was unable to claim his prize until 48 hours later due to the phone lines being closed at Camelot.
He said he would use some of his winnings to fund a trip to his great great grandfather's grave in Belgium.
Mr Baker said they checked their numbers about five times on the winning ticket to "make sure that we had what we had and we did".
"We couldn't actually talk to anybody [at Camelot] about it until the Monday morning," he explained.
"Then they verified it all and it was all there and it was like, 'no way we've won the lottery'."
Mr Baker had been the head chef at the Tudor Hotel in Bridgwater and worked a week's notice after confirming his win.
"I even put the buffet out for the little friends and family get together we had - my final piece of cooking for my career," he said.
He added that the money meant he could spend more time looking after his mother.
"She doesn't get around a great deal and we can get out and do things now," Mr Baker said.
"We don't have to worry about when we're going to go on holiday now, it will be where we are going."
One of those trip's will be to the grave of his great great grandfather who died in World War I.
"My dad passed away several years ago and used to play the bugle in a Boys' Brigade band and that was handed down to me and I'm going to take the bugle over and play the Last Post at the grave," Mr Baker said.
"We were always going to do it in any case and this has just made it that much more possible."
Related Internet Links
The BBC is not responsible for the content of external sites.