Speed camera wrongly clocked catering van at 103mph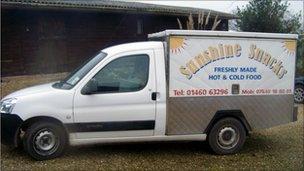 A Somerset woman who was wrongly clocked driving at 103mph (166km/h) in a catering van has had her speeding ticket overturned.
Davina Hardiman from Chard said it was impossible for her van to reach speeds that high and that the speed camera on the A358 was wrong.
Somerset Safety Camera Partnership has written to her to say it was a mistake.
"There may be lots of people that have had the same thing and you've got no defence with these things," she said.
"I go past the camera every day and I don't remember it flashing so I was completely bemused at my speeding ticket."
Drivers clocked doing more than 100mph (161km/h) can lose their licence and face a £1,000 fine.
Ms Hardiman said her van, which is fully equipped with an industrial oven and fridge, was not capable of doing more than 60mph (97km/h).
"I don't know why I got a ticket. I don't understand how they can get it so wrong. I've been told that speed cameras just aren't wrong, and it's not a valid excuse to say the speed camera is wrong.
"They claim to always be right and it just shows you can't trust them."
She said she thought her ticket was overturned because it was an "excessive amount".
The Safety Camera Partnership apologised and said it should not have been entered into the system.
Related Internet Links
The BBC is not responsible for the content of external sites.