Homefinder Somerset to change application criteria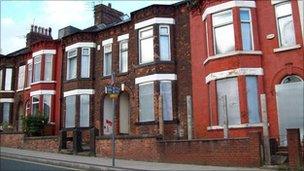 Changes are being made to the system which people use to apply for social housing in Somerset.
The length of the application form is being halved and there will be a clearer definition of what applicants' local connections are.
The definition of each housing band is to change to take into consideration health and financial issues.
Homefinder Somerset is a joint housing register for five district councils and their housing associations.
It means someone can apply online for a house anywhere in Somerset, rather than just district by district.
The new criteria will see:
the gold band criteria change from life threatening to serious medical conditions and silver band criteria will be reduced from significant to moderate medical conditions.
Households who match four or more silver band housing needs will be awarded gold band status to recognise the cumulative housing need.
People with children under 10 that do not have access to an enclosed garden will now be downgraded to the silver band so that they do not have the same priority as homeless applicants.
Also parents with children who do not live with them permanently will now not be entitled to an additional bedroom.
People who refuse three formal suitable offers will be placed into the bronze band for three months however this will exclude accepted homeless cases.
The changes are being made after a review was carried out.
Ian Timms from West Somerset Council said no system was going to be completely fair.
He denied that under the new system fewer people would qualify for social housing and said the changes just make the qualification criteria within the bands clearer.
Jonathan Kerslake from Shelter Somerset said although he was broadly supportive of the changes, he would be keeping an eye on how they assess applicants' financial resources.
"We hope local authorities, when looking at financial means, will still take into consideration other issues regarding health and homelessness.
"There may be people that have on the face of it a significant income where local authority will be looking at steering that person towards the private rental sector, but there may be very good reasons as to why they cannot pursue those options."
Related Internet Links
The BBC is not responsible for the content of external sites.