Eight swans killed with air gun in Somerset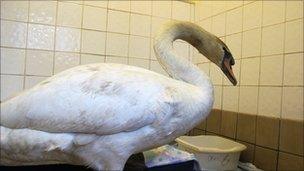 Eight swans have been shot dead with air gun pellets in Somerset, an animal charity said.
Secret World said a caller alerted staff to three dead swans in a field on West Ham Road, in Wedmore. The other dead swans were found nearby.
A charity spokeswoman said the incident, which is believed to have happened on Monday morning, was among the worst its workers had attended.
One surviving swan was found and is being treated at the charity's centre.
The Burnham Area Rescue Boat was called to help rescue it.
The spokeswoman for the East Huntspill rescue centre said X-rays had shown the swans were shot with airgun pellets. All had been shot in the head, she said.
Pauline Kidner, founder of Secret World, said: "It is hard to believe why anyone would do such a callous thing.
"A lot of swans foraging on crops can cause a lot of damage, but there is no excuse for such cruelty.
"What makes matters worse is that some of the swans may well have been ones that we worked so hard to save from the ice over the Christmas period."
In December, Secret World volunteers rescued 21 swans which were found stuck in ice on the Somerset Levels.
An Avon and Somerset Police spokeswoman said the RSPCA had been informed. She said the neighbourhood team would carry out extra patrols.
The Secret World spokeswoman said the injured swan was standing up and preening its feathers.
"We are hopeful he'll make a full recovery," she said.
Related Internet Links
The BBC is not responsible for the content of external sites.