First reveals bus services to be cut back in Somerset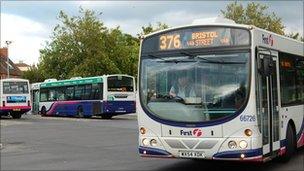 The bus services in Somerset which are to end or operate a decreased timetable due to council cuts have been revealed.
Five services are to stop running while others are to cease operating either in the evening or on Sundays.
The Conservative-run county council has reduced its bus subsidies by 46%, saving £2.6m.
Seven off-peak services will be run by First on a trial "use it or lose it" basis. Its daytime services will remain unchanged.
The routes are Service 21/21A (Taunton - Burnham on Sea), Service 22 (Ladymead Road - Rockwell Green), Service 92/192 (Taunton - Exeter), Service 28 (Taunton - Minehead), Service 112 (Weston-super-Mare - Highbridge), Service 173 (Bath - Wells), Service 376 (Bristol - Street) and Service 377 (Wells - Yeovil).
Service 61 (Chard to Yeovil), Service 901 (Wells to Wincanton), Service 932 (Yeovil Town Service), Service 968 (Yeovil to Forest Hill) and Service 980 (Yeovil to Wessex Road) will stop running completely as a result of losing their subsidy.
Services operating from Monday to Friday during the day will be largely unaffected by the timetable changes.
The changes will take affect from 17 April.
Simon Cursio, commercial director of First Bristol, Somerset and Avon, said: "We have done what we can to minimise the impact of the changes, taking some risk in running some of the journeys on a commercial basis ourselves.
"The message moving forward is clear though: if not enough people use these journeys then they may be lost altogether, as we, as a commercial company, cannot support loss-making routes indefinitely."
David Redgewell from South West Transport Network said: "We're extremely alarmed at some of these cuts.
"We believe there has to be some financial cuts in alteration of services, but the way this has been done will mean people will be left stranded when getting back from work.
"We don't have a society where people work 9 to 5 and people have to travel distances for their jobs."
Related Internet Links
The BBC is not responsible for the content of external sites.