Somerset woman's concerns for husband stranded in Libya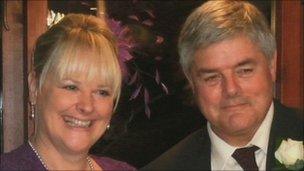 A Somerset woman has spoken of her concerns for the health and safety of her husband who is stranded in the Libyan desert.
Clare Browne, who lives near Taunton, says she feels the government is not doing enough to help Britons stranded in locations far from Tripoli airport.
Her husband Mike is diabetic and running out of medication, she said.
The Foreign and Commonwealth Office said staff were working to secure safe passage for British nationals in Libya.
Prime Minister David Cameron said earlier that he is "extremely sorry" for the government's handling of the evacuation of British nationals from Libya.
He said it had not been an easy situation and ministers needed to "learn the lessons".
A plane chartered by oil companies for employees, with 79 passengers, has arrived at Gatwick and a government-chartered flight has also left Libya.
Mr Browne, who married his wife last year, went to Libya a week ago.
He is a construction worker based about 30 minutes drive from the port town of Misratah, and 150 miles from Tripoli airport.
Mrs Browne said: "My husband can't get to Tripoli. As far as I can see, the government hasn't got any plans in place to get people like him away."
A Foreign and Commonwealth Office (FCO) spokeswoman said: "Numerous FCO staff continue to work day and night to provide the best possible assistance to British Nationals in Libya."
She said an estimated 150 Britons were in desert areas.
"They are in a perilous and frightening situation," she said. "We are working intensively on a range of options to secure their safe passage from Libya, working with other countries whose nationals are in the same position.
"We have made every effort to contact them and their employers to provide what advice and assistance we can. Such efforts have been hampered by extensive disruption to Libyan telecommunications systems since over the last few days."
She urged Britons in Libya to contact the Foreign Office hotline on 020 7008 0000.
Related Internet Links
The BBC is not responsible for the content of external sites.