Deadline to buy Frome Hoard is extended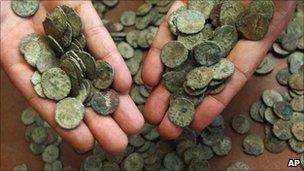 The deadline for enough money to be raised to keep a hoard of Roman coins in Somerset has been extended until the end of March.
The Frome Hoard, found last April by Dave Crisp, from Wiltshire, is the largest single collection of Roman coins found in one pot.
The Museum of Somerset wants to keep the 52,500 coins in the county.
It has a month to raise the £320,000 needed to stop them being sold at auction.
So far, about £100,000 has been raised and the museum is awaiting the outcome of a number of key grant applications that could make up the difference. The previous deadline was 19 February.
The 160kg find, which dates from the 3rd Century AD, was declared to be treasure in July.
Once something is declared treasure, the finder may be able to keep it or an institution, such as a museum, may buy it.
Under the Treasure Act, the institution has four months to raise the money, although the deadline can be extended if necessary.
Related Internet Links
The BBC is not responsible for the content of external sites.