Ten more dead swans found in Somerset field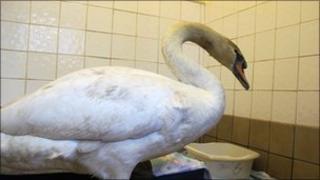 Ten more dead swans have been discovered near where eight others were found in the Wedmore area of Somerset.
The first eight birds had been shot in the head with airgun pellets and were found in a field outside Blackford.
The RSPCA is already investigating that incident which is believed to have happened on 21 February.
The Secret World charity, which is treating one surviving swan, said the 10 other dead swans were found in a field in nearby Westham.
Pauline Kidner, who founded Secret World, said: "We are all very upset with the situation.
"The difficulty is people are finding large numbers and once they've been scavenged we can't prove exactly how they've died."
After the first incident, the community raised £10,500 to offer a reward for information that leads to the conviction of the gunman.
An Avon and Somerset Police spokeswoman said the neighbourhood team was carrying out extra patrols.