St Mary's Church in Chard makes changes to save money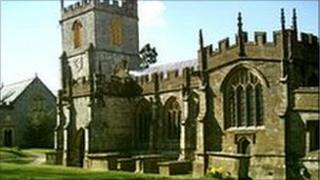 A church in Chard is using cheap supermarket wine for its communion in a bid to save money.
John White, church warden at St Mary's on Forton Road, said they have made the swap because the church suppliers are more expensive.
"The current financial climate is tough for us all," said Mr White.
"Councils everywhere are having to make savings and take tough decisions - St Mary's is no different.
"Like many others we have to look critically at our expenditure and we are doing just that."
Floodlights
Mr White said that they were also using volunteer cleaners as a way of saving money.
He also warned that the church's longstanding floodlights could be switched off.
"During the hours of darkness St Mary's looks really majestic in those floodlights," added Mr White.
"Unfortunately I think it costs us something like £436-a-year [and] unless we get some form of sponsorship, those floodlights might have to be switched off and that would really be a shame."
St Mary's is a Grade I listed building which dates back to the 1400s.
Chard has a population of around 16,000 people, of which 12,000 are in the Parish of St Mary's.