Regeneration plans for Midsomer Norton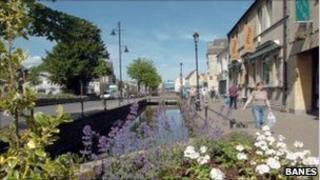 Proposals have been drawn up by Bath and North East Somerset Council to regenerate Midsomer Norton town centre.
The aim is to redevelop the High Street with new shops, offices and homes.
Council leader Francine Haeberling, Conservative, said: "The idea is to create a brighter future for the town centre and support the space for 1,000 jobs in the Somer Valley area."
The plans are expected to take 10 to 15 years as part of the Conservative-run council's core strategy for the area.
Leader of the opposition, Liberal Democrat Paul Crossley said: "We are excited about the plans to renew and regenerate the town, but it's important we get the support of the local community otherwise you get bogged down in controversy and things don't happen."
A supermarket and 300-space car park form part of the plans for the South Road and Streamside area of the town centre.
More shops, offices and homes could be built on the site of the former Palladium building and Old Brewery, creating about 400 jobs.
Old Mills is a mainly greenfield site on the north western edge of the town.
It has not been put forward for development in the past because of a lack of infrastructure, but these issues are to be addressed in a master plan for the site which is currently being drawn up.
If the proposals are approved, Old Mills could accommodate up to 38,000 sq m of industrial space and warehousing.
The Hollies area, where Sainsbury's is currently situated, could also be redeveloped to make the road layout clearer and make better use of the space for markets and events in the town centre.
In addition to this, the site of the former packaging company, Alcan, which closed in 2006 could be redeveloped into office space and residential areas.
The proposals will be discussed at a council meeting later.