Somerset council seeks £7m for superfast broadband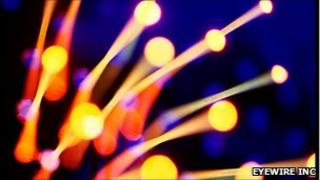 A cross-party bid of £7m is being drawn up by the county council to help bring superfast broadband to Somerset.
The council hopes to get match-funding from the private sector but it will have to pay £1m for procurement.
Council leader Ken Maddock, Conservative, said: "This is the best single thing we can do to help business."
Average broadband speed in Somerset is 3MB per second but some areas are lower than 2MB per second.
If broadband speed is lower than 2MB per second users are unable to access video or other multimedia at a reasonable speed.
'Full support'
Superfast broadband will involve installing fibre optic cables to enable broadband speed to become 10 times faster, with speeds of at least 30MB and up to 100MB per second.
Jill Shortland, leader of the Liberal Democrat opposition, said: "This is something Somerset desperately needs, we are fully behind the bid and have offered our full support and also to be part of the delegation to see the Culture minister, Ed Vaizey, at the beginning of May."
If successful, the intention is to install superfast broadband across 85% of the county by 2015.
BT is already due to install fibre optic cables in Taunton this autumn.
For one company the county council's efforts are too late.
Richard Webber, owner of Exmoor-based Shearwell Data, an IT company based on Exmoor. His company manufactures agricultural tags for livestock and runs a health and movement database monitoring cattle.
"We are already going to move 30 jobs out of Somerset because of it. If is going to be a national scale service then we have to have a guarantee of services and we have to be in a position where people can access the database."
John Haynes, chairman of the Sparkford-based book publishers Haynes, said: "As a media company we rely more and more on receiving data in a digital format but also it's everyday communication which could be enhanced.
"When I look at our operations in places like Romania and Holland where they enjoy superfast broadband, they can have video conferencing while reducing costs.
"It's needed to encourage entrepreneurial activity."