Study rejects uranium contamination at Hinkley claim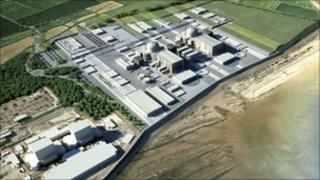 The Environment Agency says claims that soil at Somerset's Hinkley Point nuclear power station is contaminated with enriched uranium are "unfounded".
The claim was made by environmental consultancy group Green Audit at a public meeting earlier this year.
The agency said it had carried out its own investigation and found "no enriched uranium" present.
A Green Audit spokesman said an initial look at the results suggested the agency's investigation was "flawed".
Campaigners against the proposed new Hinkley C plant have raised concerns about health risks associated to uranium exposure.
Hinkley A, which closed in 2000 and is undergoing decommissioning, used natural uranium.
But advanced gas-cooled reactors, such as Hinkley B, use enriched uranium, which is more radioactive.
Green Audit said EDF Energy's own data tables suggested the proposed new site contained about 10 tonnes of enriched uranium from spent reactor fuel.
The Environment Agency, which regulates discharges from nuclear plants, said it undertook soil sampling "in view of public concerns that the allegations may have caused".
'Trust issue'
It said samples were taken on the proposed site and at three farms, several miles away, and were analysed using mass spectrometry - a method of measuring radioactive isotopes.
"The results of our sampling show that no enriched uranium is present," said spokesman David Bennett.
"Uranium is present naturally in small quantities in all rocks and soils. The levels of uranium found in the soil samples taken both on and off the site are low, and at naturally occurring levels."
But Professor Chris Busby, from Green Audit, said it was "unacceptable" that the agency had taken samples without their representatives or the local Stop Hinkley campaign group being present as observers.
"The issue is essentially one of trust," he said.
He added that the results "cannot therefore be used to reassure anyone".
He added that Green Audit had carried out its own gamma survey in February and discovered that radiation was significantly higher than values that had been reported for the site.