West Somerset Railway builds accommodation for helpers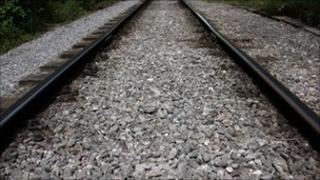 A Somerset tourist attraction is taking drastic action to help some of its volunteers who are struggling with record petrol prices.
Minehead's West Somerset Railway is building a new accommodation block to give shelter to those who are finding it too expensive to fill up their car.
"We're having to look very carefully at how we can support these volunteers," said general manager Paul Conibeare.
"A lot live a long way away so the cost of petrol is having a big impact.
"If people do come over they can stay overnight at virtually no cost, rather than have to hire a caravan or stay in a hotel."
Valuable volunteers
Mr Conibeare added that the service simply "couldn't survive" without the 1,000 people who give up their time to help the railway.
"If you turn up and travel on the railway then your driver is probably a volunteer; your guard is a volunteer; your signalman is probably a volunteer," he said.
"We have about 50 full-time staff, so we're quite a big employer in West Somerset but without the volunteers you wouldn't have the steam railway running through 20 miles of Somerset countryside."
The West Somerset Railway, which uses historic steam locomotives, coaches and wagons, is celebrating its 35th anniversary year with a series of gala events.
A new service, the Dunster Castle Express, launches on 6 April and will carry passengers from any of the services's 10 stations to Dunster.