Somerset mother's death after double dose of drug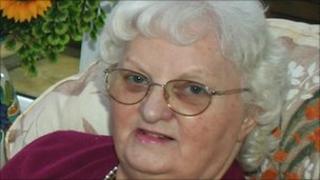 The family of a woman who died after being given a medication overdose said they may take legal action despite an inquest ruling death by natural causes.
Ellen Newman, 80, from Weston-super-Mare died in hospital in June last year, five weeks after being admitted from her care home.
Her son Mike Newman said: "I still feel there is a link between the drug and her death."
Boots pharmacy changed its prescription handling rules after her death.
Mr Newman added: "There has been some kind of breakdown in communication, this dosage of medicine went wrong, but as soon as she received this medication, her health went off a cliff.
"We are taking advice on possible legal action. We do not want this to happen to anyone else."
Mrs Newman had been prescribed Primidone in May 2010 to control a tremor in her arms and legs.
The inquest at Flax Bourton heard there had been a mix-up between her GP surgery and the Boots pharmacy in Weston-super-Mare.
Tablets halved
Geriatrician Dr Mark Cheesman, who prescribed the drug to Mrs Newman, told the inquest that Primidone is a powerful drug usually used in the treatment of epilepsy.
He prescribed her with an initial daily 125mg dose, or half a standard 250g tablet, increasing to a final dose of two 250mg tablets over the space of more than one week.
The tablets which were then delivered to Earlfield Lodge, Mrs Newman's care home, were unbroken and staff are not allowed to break them.
Staff called her GP, Dr Mike Leonard, for advice. He told the inquest that he advised them the tablets should be halved.
But once he had spoken to them, he updated the surgery's computer to allow for the next dosage in her prescription which was one 250mg tablet per day.
After speaking to the GP the care home staff sent the tablets back to Boots to be broken.
The inquest heard that a trainee dispenser from Boots called the surgery to confirm the dosage and was told the new dose, which meant they did not break the tablets.
Mrs Newman was given a whole tablet on 15 May and became ill within an hour. She was admitted to hospital four days later.
A spokesman for Boots said: "We would like to extend our sincere sympathies to Ellen Newman's family."
Mrs Newman died in Weston General Hospital from respiratory failure and liver cirrhosis on 23 June.
Assistant deputy coroner for Avon, Terence Moore, recorded a verdict of death by natural causes.