Skipper role for Somerset sailor in Clipper yacht race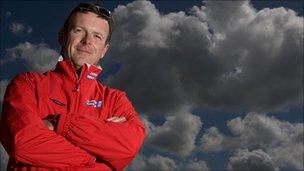 A Somerset sailor is set to be one of 10 skippers to take part in the Clipper 11-12 Round the World Yacht Race.
Rupert Dean will be in charge of a team sailing in a 68ft (21m) yacht during the 40,000-mile (64,373km) race, which will take 12 months to complete.
He said: "I have put myself forward with every intention of winning."
Mr Dean, who learnt to sail with his father on the River Exe in Devon, has previously stepped in as relief skipper twice in the Clipper races.
However he has never completed a race from start to finish.
"Everyone knows the importance of preparing oneself, the yacht and her crew before the start line, so to manage a campaign from start to finish, with everything that entails, is an opportunity I relish."
For Mr Dean, the most exciting legs will be sailing between Rio de Janeiro, Cape Town, Australia and New Zealand.
"As a child I avidly followed the Whitbread Round the World Race so the chance to sail those waters in the tracks of my heroes will be fantastic."
Mr Dean will be leaving his job at the United Kingdom Hydrographic Office in Taunton, which produces maps and navigational charts for the Royal Navy, Merchant Navy and for commercial and recreational use.
The Clipper race is in its 15th year and is aimed at making sailing accessible to everyone, regardless of nationality or background.
It was created by Sir Robin Knox-Johnston who sailed solo around the world in 1969.
"Leading a team around the world is one of the hardest and most challenging any skipper could ever undertake and we're confident Rupert is up to the challenge," said Sir Robin.
During the 40,000-mile race, the yachts will stop at 15 ports around the world. The race starts in August and will finish in July 2012.
Related Internet Links
The BBC is not responsible for the content of external sites.