Taunton man who beat dog gets animal ban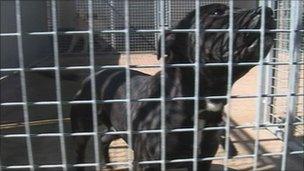 A Somerset man who beat his dog in front of shoppers has been banned from keeping animals for five years.
Simon Summerhayes, 28, of Lambrook Road, Taunton, was convicted of cruelty to his Staffordshire bull terrier, Rossy, at a previous hearing.
Taunton magistrates also gave Summerhayes a 100-hour community order and a three-month night-time curfew, and ordered him to pay £500 costs.
The RSPCA was given custody of the dog and is looking for a new home for him.
Witnesses had told magistrates during a trial that they saw Summerhayes punching Rossy in the head and kicking him in the ribs.
RSPCA Inspector Jo Daniel said: "It's obviously shocking and horrendous and I think the fact so many people from Taunton came forward wanting to make statements and come to court gives an indication of how people feel about someone beating their dog up in Taunton High Street."
Related Internet Links
The BBC is not responsible for the content of external sites.