Somerset pupils excluded for abuse falls by 27%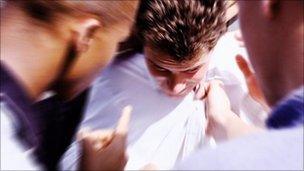 The number of pupils in Somerset excluded for physically or verbally abusing their teachers has declined by just over 25%.
In 2007, 1,557 pupils were excluded for their behaviour towards teachers. That figure dropped to 1,143 last year.
Schools said they had taken preventative action to stop problems developing between pupils and staff.
But the National Union of Teachers said staff were under pressure to keep exclusion figures low.
The figures include primary and secondary pupils in the Somerset County Council area.
They cover those excluded either temporarily or permanently.
About nine in 10 cases were for verbal abuse, the others were for physical assault.
The figures were released to BBC Somerset under the Freedom of Information Act.
One teacher said he did not trust the statistics because schools were failing to exclude some pupils who should have been excluded.
Robin Head from the NUT said: "You have to take the statistics as they appear.
"But certainly there is anecdotal evidence that for some staff in Somerset schools reporting that kind of behaviour can be a challenge, because it can be seen as a weakness in not being able to deal with that kind of behaviour."
The head teacher at Ansford School, Rob Benzie, said there had been a big shift in attitudes in schools, away from harsh, traditional discipline.
He said exclusions did not work as they alienated people from society.
"It doesn't help schools, individuals or society in general. We need to build relationships which are mutual and respectful," he said.
Education Secretary Michael Gove has just published new guidance aimed at restoring the authority of teachers in the classroom.
Related Internet Links
The BBC is not responsible for the content of external sites.