Bands win Glastonbury Festival Emerging Talent contest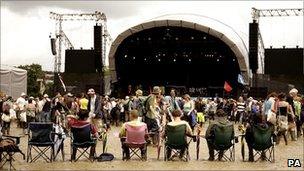 All eight acts which competed in the finals of Glastonbury Festival's Emerging Talent Competition have won slots to appear at the music event.
The finals, held at the Pilton Working Men's Club, saw an "exciting range" of new performers.
The competition saw over 7,500 entries received and the final was judged by Michael and Emily Eavis as well as a host of broadcasters.
The overall winners, Treetop Flyers, will play the Other Stage.
Other successful slots were won by:
My Tiger My Timing (John Peel)
Louise and the Pins (Avalon)
My First Tooth & Emily and the Woods (Acoustic)
Twin Brother (stage to be confirmed)
Tristram (stage to be confirmed)
The finals were streamed live on the Glastonbury Festival website, with over 1,900 people tuning in, roughly the same as the capacity crowd at a major live venue.
Related Internet Links
The BBC is not responsible for the content of external sites.