Two killed in Somerset shooting incident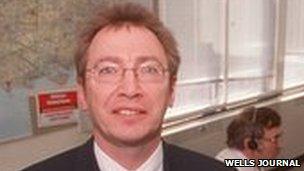 Two men have died in a shooting incident in Somerset.
Police were called after reports a man had been shot in Westbury-sub-Mendip near Cheddar just after 2230 BST on Sunday. He was dead when they arrived.
BBC Correspondent Jon Kay said the man had been named locally as prominent local businessman Ray Masters.
Officers discovered a second body in the grounds of nearby St Lawrence Church shortly afterwards and a shotgun was recovered.
An Avon and Somerset Police spokesman said officers were not looking for anyone else in connection with the shootings.
Locals said Mr Masters, 58, was shot in his home.
Police have sealed off the church and neighbouring property Westbury House, a large, detached home with security gates.
Mr Kay, who is at the scene, said: "One of my other colleagues was told by a neighbour he heard about six to eight gunshots just after 10.30pm last night."
Julia Burman, 18, who lives in the village, said: "I heard it all happening, but didn't want to go down in case there weren't any police there yet.
"I heard a gun shot then heard another couple of shots and then some screaming. It sounded like a shot gun. There was one shot and then a pause.
"It was hysterical screaming. At first I thought it was someone coming from the pub but it was very distressed.
"I then heard sirens and a car door slam. A helicopter was doing circuits for ages.
"It was pretty scary. I thought it would just be hunting or something, but then thought, why would they be hunting at that time?
"It's really strange, you don't expect it in the village."
Robert Wood, 61, who lives opposite the church, described hearing gunfire and then a woman's cry.
He said: "I was listening to the Masters golf on the radio and heard, I reckon, about four shots.
"I assumed it was someone shooting rabbits or something on the outskirts of the village.
"After about 10, I heard a girl running down the road, making a continuous noise.
"I thought as it was pub closing time it was high-jinks or something but, thinking about it now, maybe she'd seen something.
"The next thing I know, the whole place was lit up with flashlights and flashing blue lights and police cars were crawling all over the place."
The force spokesman said crime scene investigators were working to establish the circumstances leading to the two deaths.
He said: "At 10.39pm on Sunday a call was received by police from someone reporting that a man had been shot at a house in the village.
"Police attended the scene but the man died shortly after the incident.
"An investigation was immediately launched to identify the person responsible and inquiries led to the discovery of a man's body in a nearby churchyard.
"A shotgun was also recovered nearby.
"The reason why this has happened is unclear and officers are keeping an open mind at the moment," he said.
Ros Wyke, chairman of the parish council, said: "We are all deeply shocked and saddened by it. It's not something you wake up to every day."
She described Westbury-sub-Mendip as "a typical, quiet Somerset village on the side of the Mendip hills, a beautiful, wonderful place to live".
The small village, located between the cathedral city of Wells and Cheddar Gorge, is home to about 850 people.
Parish vicar Paula Hollingsworth said Mr Masters and his family occasionally worshipped at the church.
"I was deeply saddened to hear about this tragedy," she said.
"I know that this is a shock to everybody in the village of Westbury-sub-Mendip.
"It is unbelievable, and will take some time for the people here to come to terms with it.
"The families affected by this tragedy are very much in our thoughts and prayers."
Related Internet Links
The BBC is not responsible for the content of external sites.