Muslim family says headscarf 'can bring confidence'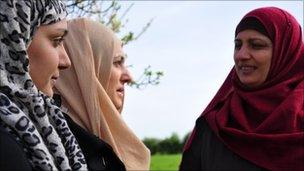 Wearing the hijab can bring a woman a "sense of confidence and identity".
That's the view of a Muslim family from Somerset who have described why wearing the hijab is important to their faith.
Although Ghazala Mahmood from Mark wears a headscarf, her eldest daughter, Mehreen, doesn't. Her youngest, Mehtab, will do so when she starts university.
Mrs Mahmood said: "My religion says a woman should be like this. If a woman wears any other dress, I have no problem with it, it's their choice."
The headscarf, or hijab, comes from the Arabic word for veil.
For the Mahmood family, their understanding of the Koran calls for women to wear a headscarf and clothes which do not reveal a woman's figure but can reveal their face and hands.
They do not believe the Koran calls for a full body covering such as a burqa or a niqab which covers most of the face apart from the eye area.
Ghazala has worn a headscarf since she was 17 years old.
"When I observe my faith, I feel good and it gives me confidence, protection, my identity, it tells me who I am.
"I feel respected. I travel a lot and I've never had any incidents and people straight away can tell I am a Muslim so they don't try and talk to me without any reason. I feel I am privileged. Basically I feel secure and good about it."
Neither of her daughters wear the hijab on a permanent basis. She hopes one day they will.
"I'm not asking them to do it for me, it's for their faith...maybe I haven't educated them well enough and I have to educate them more. When it's a learned decision I think they will carry on with it."
Ghazala added that she did not want to offend anyone when she wore the headscarf and did not judge other people's dress. Instead she believed it was a matter of personal choice.
Mehreen, 23, is a trainee pharmacist who plans to study medicine from September. She has worn the headscarf on visits to Saudi Arabia but does not wear a headscarf in public.
"I wouldn't say I completely disregard the idea of wearing a headscarf. As you know my mother does wear it, and there are plenty of other Muslim women that do. I would say I look up to them and I would definitely aspire to wear it one day.
"I do know the basic fundamentals but maybe I lack that deeper understanding and that's why I haven't completely made that transition.
"I have never thought I am never going to wear it, it's there in my head but making that leap; I am just taking my time to explore it. When I make my decision, I want it to be life-long decision rather than a part-time commitment."
Mehtab is currently studying for her A levels. She wears the hijab for family occasions only, but will start wearing one permanently when she starts university in September.
She hopes wearing the hijab will be a constant reminder of her faith.
"It helps you not to do other things. If you're wearing a headscarf you're less likely to go out clubbing on a Friday. You wouldn't see someone with a hijab on in a nightclub. It's easier to limit yourself and concentrate on your religion.
"You are always tempted to do things, you have these constant thoughts of shall I do this or that? Going to university and having the opportunity to live by myself, it will be easier not to do things once you're comfortable with the hijab.
"I don't think I will look less beautiful. You can still look beautiful but it takes away your sexuality. I can still feel good about myself and feel comfortable and confident.
"It's not hindering me in any way, it's like a hat."