Two men killed in Somerset shooting incident are named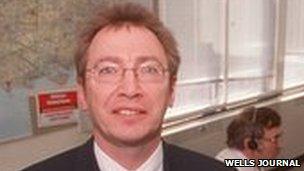 Two men who died in a shooting incident in Somerset have been named by police.
Officers were called after reports a man had been shot in Westbury-sub-Mendip near Cheddar at 2230 BST on Sunday. He was dead when they arrived.
Officers discovered a second body in the grounds of nearby St Lawrence Church and a shotgun was recovered.
Police have named the men as Raymond Masters, 58, of Westbury-sub-Mendip and Michael Harper, 46, of Stratton-on-the-Fosse.
People living in the area said Mr Masters was shot in his home.
Ian Harvey, Mr Masters' next-door-neighbour, called Avon and Somerset Police to report the incident.
He said: "At about half past 10 I heard shooting. There were probably six, eight shots. I phoned the police and was told to lock myself in the house and not to move."
A police spokesman said officers went to a house and discovered businessman Mr Masters with apparent shotgun injuries.
Soon afterwards, Mr Harper's body was found in a nearby churchyard, the spokesman said. A shotgun was also recovered, he added.
Police are continuing forensic investigations and interviewing witnesses to determine events leading up to the incident.
The spokesman said post-mortem examinations would be held on Tuesday.
The spokesman added: "Police believe that the incidents in which the two men died were linked, no other suspects were being sought and that their deaths will ultimately go to a coroner's inquest."
He appealed for anyone with information to contact the force.
Police sealed off the church and neighbouring property Westbury House, a large, detached home with security gates.
Julia Burman, 18, who lives in the village, said: "I heard it all happening, but didn't want to go down in case there weren't any police there yet.
"I heard a gun shot then heard another couple of shots and then some screaming. It sounded like a shot gun. There was one shot and then a pause.
"It was hysterical screaming. At first I thought it was someone coming from the pub but it was very distressed.
"I then heard sirens and a car door slam. A helicopter was doing circuits for ages.
"It was pretty scary. I thought it would just be hunting or something, but then thought, why would they be hunting at that time?
"It's really strange, you don't expect it in the village."
Ros Wyke, chairman of the parish council, said: "We are all deeply shocked and saddened by it. It's not something you wake up to every day."
She described Westbury-sub-Mendip as "a typical, quiet Somerset village on the side of the Mendip hills, a beautiful, wonderful place to live".
Related Internet Links
The BBC is not responsible for the content of external sites.