New emergency centre for Weston General Hospital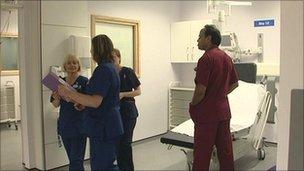 A new £8.9m emergency medical centre has been opened at Weston General Hospital.
The urgent treatment centre combines the expertise of emergency care doctors and nurses with some GPs specialising in urgent care.
Patients arriving are assessed as to whether they need emergency care or have life-threatening conditions, and directed to the most appropriate area.
Some 50,000 patients were treated by the emergency department last year.
A hospital spokeswoman said this figure was rising by up to 10% per year and it could not afford to let this continue to happen.
"In the past, some patients have chosen to come to the hospital's emergency department instead of going to their own GP or dentist, and now we will be doing more to help them access the right care at the right time in the right place.
"If they could be better served by their own GP or dentist then they will be re-directed to them and helped to access them, if necessary."
Related Internet Links
The BBC is not responsible for the content of external sites.