Fashion challenge for cheese show at Bath and West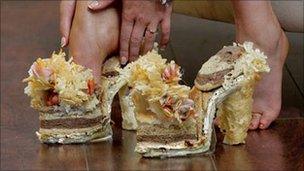 A cheese-themed fashion challenge has been set for the National Cheese Awards in Somerset.
Entrants to the event at the Royal Bath and West Show have been asked to "get cheesy" and make fashion accessories made of cheese such as shoes and hats.
The challenge has been taken up by students at Bath Spa University who created a range called Jimmy Cheese inspired by shoe designer Jimmy Choo.
The items must be made of cheese or associated items such as packaging.
The fashion items can also be made from things used in cheese production.
Hannah Jenkins from the competition sponsor, Pilgrim's Choice, said: "We had an incredible response from the public last year to our Cheese Sculpture Awards Class, where we showcased the world's largest cheese sculpture.
"This year, we are set to go one step further and I can promise visitors won't be disappointed."
The show runs from 1 to 6 June at the Bath and West Showground near Shepton Mallet.
Related Internet Links
The BBC is not responsible for the content of external sites.