Bariatric surgery woman supports obesity report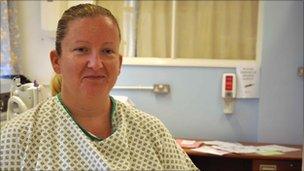 The UK's first large-scale study into the impact of weight-loss surgery has reported a large reduction in type 2 diabetes and other health problems.
The National Bariatric Surgery Registry also says the operations are good value for money as the cost of bariatric surgery is recouped within three years of surgery because it prevents other health conditions with are expensive to treat.
A woman from Yeovil, who prefers to be known by just her first name, Michele, had a gastric bypass operation last year.
The operation proved controversial, with several people contacting BBC Somerset outraged that the NHS was funding the procedure, which reduces the stomach's size and restricts the number of calories her body can absorb.
At the time, Michele said: "Obesity is a big problem in the world and is classed as a disease.
"The initial monetary outlay may be large but it more than pays for itself over the person's lifetime and more.
"Things such as heart attacks, strokes, cancers, sleep disorders, ulcers, amputations, blindness, depression, back problems diabetes, and joint replacements such as hips and knees. A hip operation costs practically the same as the bypass."
Since the operation Michele has lost six and a half stone (40kg).
"It's amazing and I feel so much better for it. I've changed my diet 100%; it's just changed my life completely."
Michele supported the findings of the report, which was co-written by a surgeon from Taunton's Musgrove hospital.
A Department of Health spokesman said surgery should be "a last resort" while the chairman of the charity Diabetes UK, Professor Sir George Alberti, said people who were obese should try to lose weight through diet and lifestyle changes first.
Related Internet Links
The BBC is not responsible for the content of external sites.