Bridgwater sex abuse survivors talk of pain of attacks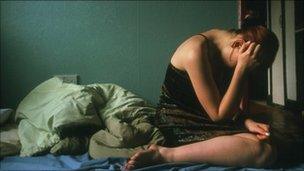 Two women from Bridgwater who were abused by a member of their own family have spoken of their pain in the hope of helping others.
Karen Durant and Julie Roberts were both abused by Jet Nicholson Sheridon, now 53, of Thomson Close, Bridgwater.
Offences dated back to the 1970s and 80s but investigations began in 2009, when Mrs Durant spoke out.
Sheridon, who was jailed for 20 years, was Mrs Durant's step-father and Ms Roberts' half-brother.
He was convicted last week at Taunton Crown Court of seven counts of rape, three counts of indecent assault and wilfully ill-treating a young person under the age of 16.
"He should have got life for what he's done to us; we've had to suffer for so many years and we're still going to suffer," said Mrs Durant, who is now aged 41.
"He's got to stay away from people and not be near anyone; not be near children. It's not enough for us."
Both women have waived their right to anonymity to talk about the impact of the abuse.
They said they were scared to come forward as they were worried about what their family would say, and whether there would be enough evidence to convict.
"I was determined I was going to fight it and for all of the other women out there and for Julie," said Mrs Durant.
"I think we needed each other to get us through the case. We both just had to carry on; we had to do this to get on with our lives," added the mother-of-four.
Ms Roberts, who is now 49, said: "Karen kept it bottled up but I didn't... I attempted suicide a couple of times this year just because I didn't know how I was going to deal with it.
"It's only through the support of my children that have grown up - I've now got grandchildren - that I knew I've got something to live for because I need to protect them as well."
Det Con Kevin Pellow, who helped the women through the investigation, said the reporting of historic sex abuse was becoming more prevalent.
He said this may be because the way Avon and Somerset Police investigates rape and serious sexual assaults had improved considerably and there was now a greater awareness amongst the public of the types of cases leading to conviction.
"Historic cases are a problem because witnesses may be dead or have moved away, and forensic evidence will be lost and perhaps some of the memories will have faded over time.
"Not every case will go to court, not every case will go to trial, not every case will have a successful outcome; but we do, as in this case, get some success."
By speaking out, the women hope it will encourage others to come forward.
They say they would like to set up a website which will offer advice to others who have gone through similar experiences.
"It doesn't matter how long it takes, eventually you can get it sorted and justice can be done," said Ms Roberts.
"It just takes speaking to one person to give you the courage to go through with it."
Related Internet Links
The BBC is not responsible for the content of external sites.