Glastonbury pilgrimage cancelled due to fuel cost rises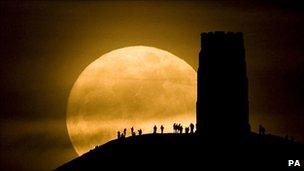 Organisers have cancelled the annual pilgrimage to Glastonbury due to the burden of rising fuel costs for pilgrims.
The event has run since 1924 and is based on the legend that Joseph of Arimathea visited the town.
Mayor of Glastonbury John Coles said: "I just hope this isn't the beginning of the end."
Glastonbury Pilgrimage Association's financial situation was also a factor in the decision to cancel the event.
Association chairman, the Bishop of Plymouth, the Right Reverend John Ford said: "We needed to consider the viability of this year's pilgrimage in the light of the association's financial position and the factors which will affect the number of pilgrims likely to attend this year."
He also said another religious event at Exeter Cathedral, the Walsingham Festival in May played a part in their decision, as "the further rise of fuel costs would make a day out for families yet more expensive".
Related Internet Links
The BBC is not responsible for the content of external sites.